There Session: Sandy Hook Beach
If you couldn't tell, I'm partially obsessed with the beach. So I'm always down for any opportunity to actually get to work there. Especially when it involves one of my AMAZING couples. The beige of the sand reflects beautifully up to the face creating those gorgeous skin tones. Combined with the blue water and sky and the golden sun; it all comes together to create magic! The beach brings such a fun and carefree vibe that you're bound to let go, be free, and get a little silly. Which is exactly what happened during Lawlah and AJ's Sandy Hook Beach engagement session. After getting rained out not once, but twice, we finally were able to make it happen. All week leading up to their session the weather was calling for rain… The morning of, I checked my weather app and saw nothing but clear skies for the day! An added bonus, it just happened to be the most beautiful day we've had all summer. Seventy-five  degrees, no humidity,  and clear skies. They weren't lying when they said the third time's a charm! I got to meet Lawlah's entire family as well as their cute puppy who was stoked to get to be at the beach and dig around in the sand! We began on the ocean side and ended on the bay side for sunset. The magic can be seen in the photos!
Their Love Story
These two cuties met in high school but didn't actually start dating until after. Even though admittedly so…Lawlah had a bit of a crush but AJ "wouldn't pay her the time of day". Eventually they came together and the rest is history! Now they have happily been celebrating their love for 4 years.
Lawlah and AJ
Thank you both for being so amazing and down for all of my wild ideas!! You guys were down for sitting in the sand, getting a little wet, and splashing around in the water which makes my job even more fun! I can't wait to work with you guys again soon!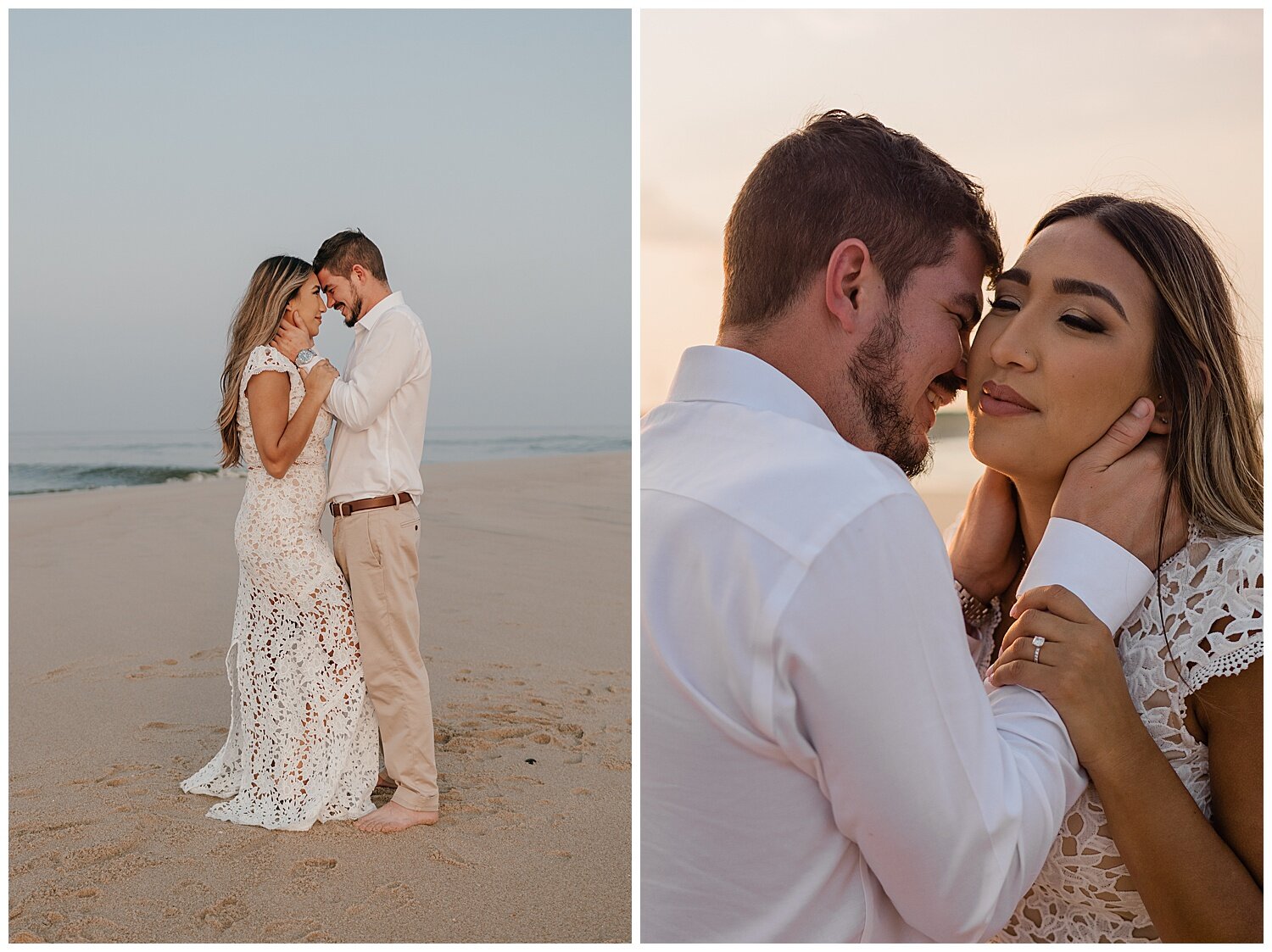 Are you dreaming of your Sandy Hook Beach engagement session? I got you! Click here to inquire now!
Dress: Lulus
Hair and Makeup: Lighten Up Salon and Spa