Their Session: Cross Estate Gardens
I can't get enough of these two!! When Alyssa first reached out I knew her and I would get along based on her energy and enthusiasm in my contact form. They knew they wanted somewhere green with beautiful gardens and she was leaning towards Cross Estate Gardens. If you've checked out any of my past posts you'd know just how magical this place is. You have the tower, open grass fields, unique trees, and of course the gardens. So much room for activities!! That's half a Step Brothers reference but half reality…there really is so much space there to do all the fun loving, movement oriented posing that I love. The day of their session we pulled up and I couldn't believe how empty it was! For anyone that has had a summer session at the gardens you know how crazy it can sometimes get there. I couldn't believe how lucky we got to have the entire place to ourselves! So we did what anyone would do in this situation, took advantage of every nook and cranny the gardens had to offer. Ending the session the only way I do at the gardens; in the open grass fields where the sun hits just right. It was seriously a perfect evening!
Their Love Story
Paul and Alyssa both went to Sacred Heart University in Connecticut. Paul is a year older than Alyssa but they have the same group of friends. They never spoke in college but added each other on Instagram after an alumni weekend. Shortly after he took his shot and DM'd her. They started going on dates and then started dating. Cue the proposal!
Paul started working with a new company in the beginning of the year and had not yet met any of his colleagues yet. He told Alyssa they were going to a dinner to meet all of them. He also cleverly threw in there that since Paul and several people were new, they were doing headshots for company photos. He took Alyssa down by the water in Hoboken overlooking all of NYC. The "headshot" photographer had a sign with his company name on it and jokingly pulled Alyssa in for a few photos. Before she knew it Paul was down on one knee asking her to marry him! Then their families came out of nowhere screaming. It was the most perfect thing ever!!
When asked Alyssa what her favorite thing about Paul is she said. "I could go on and on but probably there's never a second in the day that he doesn't remind me how much he loves me. He truly is my personal hype man and biggest supporter. I am not kidding when I say hype man! He will somehow get the entire bar to start screaming and go lyssy." Together as a couple, they are the life of the party. Whether it's working out, going out to eat (especially happy hour and brunch), sporting events, or binge watch Netflix, they are constantly making each other laugh.
Alyssa and Paul
I seriously could go on and on about how much fun I had with you guys! Truly I want to say how much fun WE had because you guys instantly felt like good friends to me (hoping I'm not alone on this one LOL). I'm beyond grateful to have been able to play a part in your love story and can not wait to work with the two of you again!! P.S. Thanks for all of the restaurant recommendations. I'll definitely be checking them out!!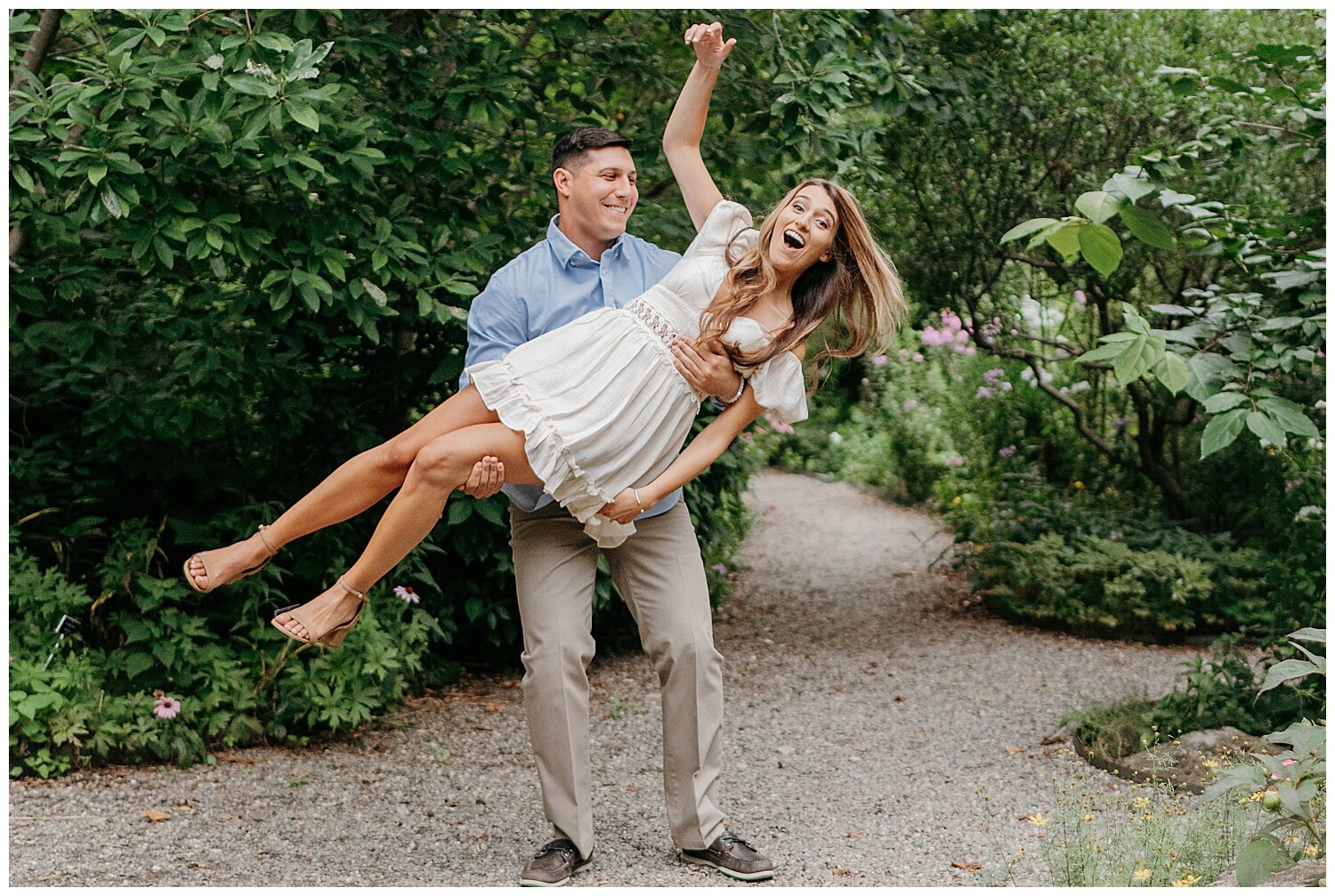 Diggin' this Cross Keys Estate engagement session? Then you'll love this Sandy Hook Beach Engagement session!